Vancouver, British Columbia – May 19, 2023 – (TSXV: NBM) (OTCQB: NBMFF)

Designated Preferred Contractor for South Korean Commercial Plant

To Commence Final Negotiations Regarding Estimate Details, Construction Timeline, Material Procurement, and Other Considerations

To Initiate Construction Upon Finalization of Construction Contract and Expects Completion by the First Half of 2024 for Plant Commissioning and Mass Production Validation

Preferred Contractor with Various Experience with GMP Cleanrooms, Advanced Engineering Plants, and Logistics Systems Construction
NEO Battery Materials Ltd. ("NEO" or the "Company"), a low-cost silicon anode materials developer that enables longer-running, rapid-charging lithium-ion batteries, is pleased to announce that the Company has designated the preferred contractor (the "Contractor") for the South Korean Commercial Plant, following the bids received from the RFQ process.
Per the press release dated April 10, 2023, NEO Battery Materials successfully completed the request for quotation (RFQ) process, receiving three tentative quotes from local South Korean contractors. After internal analysis, planning, and discussion with NEO's management and commercialization engineering team, the Company has designated the preferred contractor and will commence final negotiations regarding estimate details, construction timeline, material procurement, and other relevant considerations.
Once the contract is finalized, the Contractor will initiate site clearance, earth-bracing work, sleeve work, conduit, joint wall, framework, and foundation construction in the first three months. NEO Battery and the Contractor expect the South Korean Commercial Plant to be completed by the first half of 2024, with the commissioning and mass production validation occurring within that year.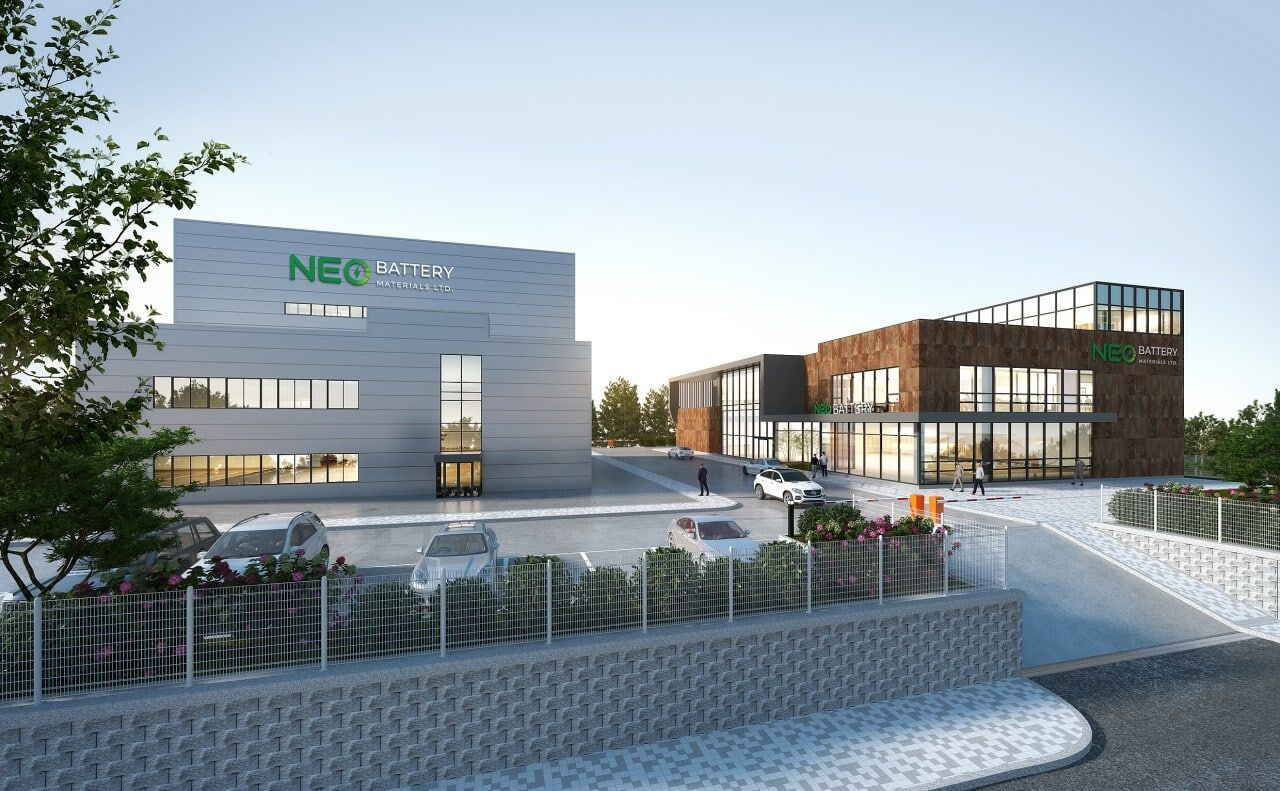 The Contractor has established a comprehensive engineering system to deliver NEO a turn-key-based solution for its commercial plant construction. With a high degree of expertise in various sectors, the Contractor focuses on good manufacturing practices (GMP) cleanrooms, advanced engineering plants for semiconductors and chemicals, and logistics systems.
About NEO Battery Materials Ltd.
NEO Battery Materials Ltd. is a Vancouver-based company focused on lithium-ion battery materials for electric vehicle and energy storage applications. NEO has a focus on producing silicon anode materials through its proprietary single-step nanocoating process, which provides improvements in capacity and efficiency over lithium-ion batteries using graphite in their anode materials. The Company intends to become a silicon anode active materials supplier to the electric vehicle industry. For more information, please visit the Company's website at: https://neobatterymaterials.com/.
On behalf of the Board of Directors
Spencer Huh
President and CEO
604-355-6463
shuh@neobatterymaterials.com
This news release includes certain forward-looking statements as well as management's objectives, strategies, beliefs, and intentions. Forward-looking statements are frequently identified by such words as "may", "will", "plan", "expect", "anticipate", "estimate", "intend" and similar words referring to future events and results. Forward-looking statements are based on the current opinions and expectations of management. All forward-looking information is inherently uncertain and subject to a variety of assumptions, risks, and uncertainties, including the speculative nature of mineral exploration and development, fluctuating commodity prices, the effectiveness and feasibility of technologies that have not yet been tested or proven on a commercial scale, competitive risks and the availability of financing, as described in more detail in our recent securities filings available at www.sedar.com. Actual events or results may differ materially from those projected in the forward-looking statements and we caution against placing undue reliance thereon. We assume no obligation to revise or update these forward-looking statements except as required by applicable law.
Neither TSX Venture Exchange nor its Regulation Services Provider (as that term is defined in the policies of the TSX Venture Exchange) accepts responsibility for the adequacy or accuracy of this release.